We Won Best Conversion Rate Optimization Solution
April McCormick
·
3 minute read
PowerChord is so excited to get to finally announce that we won the MarTech Breakthrough Award for Best Conversion Rate Optimization Solution. (We had to keep it a secret for almost a month!) What's more, when the awards team reached out to us to let us know we won, they said over 2,900 ballots were cast and that the competition was extremely fierce for the 2022 program. So when we found out a few of the other 2022 MarTech Breakthrough winners include Nielsen, Adobe, Hootsuite, ZoomInfo, AppLovin, Integrate, and HubSpot, we were beyond ecstatic about being included in this list of major players in the global market. The complete list of 2022 MarTech Breakthrough award winners can be found here.
According to the website, the mission of the MarTech Breakthrough Awards is to honor excellence and recognize the creativity, hard work, and success of companies, technologies, and products in the fields of Marketing, Sales, and Advertising Technology. MarTech Breakthrough is part of the Tech Breakthrough organization, a leading market intelligence and recognition platform for technology leadership and innovation in today's hottest categories of technology. Tech Breakthrough serves as an objective, indispensable research and advisory partner to more than 1,000 organizations in more than 40 countries.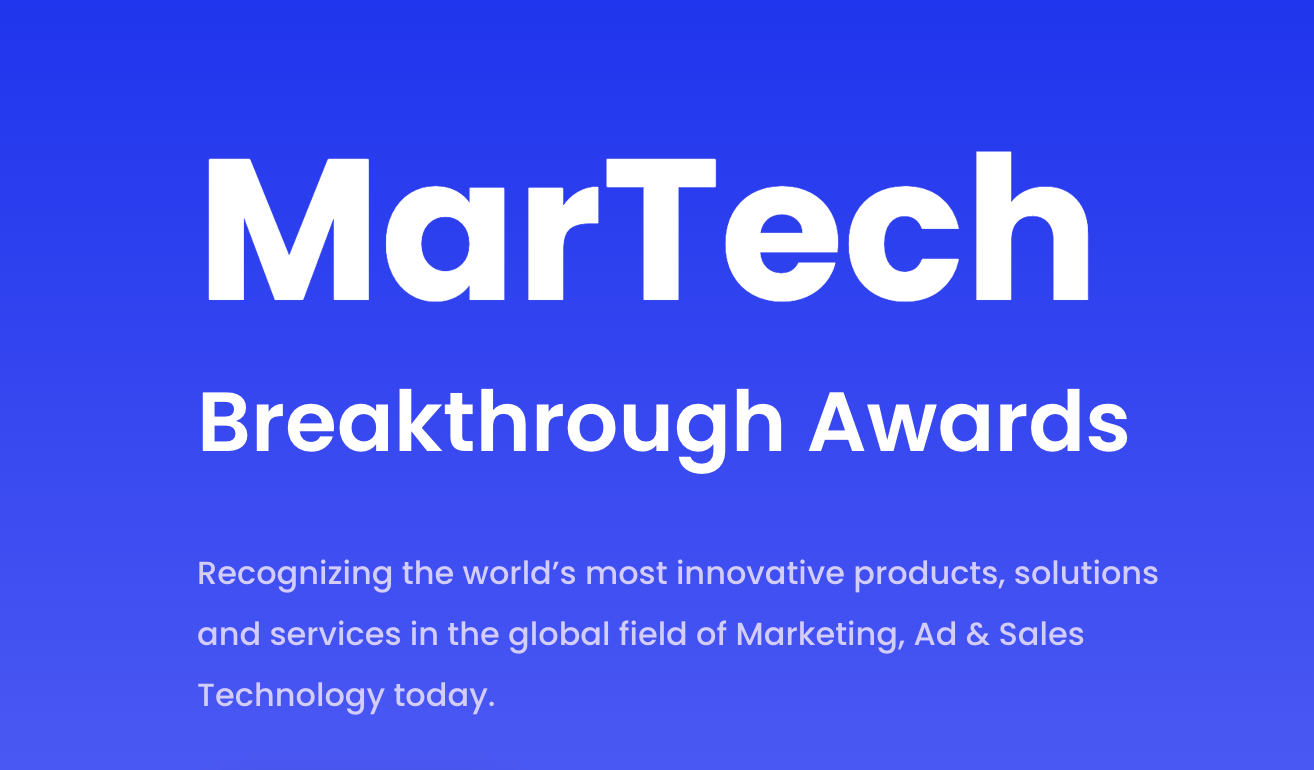 It's one thing to win, it's another to know we were judged and awarded by leaders and experts in the tech industry. The panel of judges are senior-level, experienced marketing, ad, and sales professionals that have personally worked within the MarTech space, including journalists, analysts, and technology executives.
So what exactly did we do to win Best Conversion Rate Optimization Solution?
During the pandemic, we, just like the rest of the world, watched the consumer market and global supply chain completely shift and change almost daily. Keeping up and making sense of it all became more of a guessing game than anything. How do we serve our customers in lockdowns? What can we do to improve the customer experience? How do we manage their expectations during a supply chain crisis? How do we manage our sales teams' expectations with low inventory and no idea when new units will be delivered?
At PowerChord, we knew we had to figure out a way to help our Brands optimize their funnels and enhance the customers' journey during these of times of constant global market instability. Our solution was to implement two new game-changing features on our PowerChord Platform: Rapid Response Lead Delivery and One-Click Action Funnel Optimizer.
Our Rapid Response Lead Delivery feature captures new leads and routes them within seconds of capture to the appropriate salesperson's via email and SMS to minimize time-to-contact and maximize sales. Did you know, 78% of sales go to the first person to contact a lead? It's true. Sales conversions increase by 391% when inbound leads are contacted within the same minute they are generated.
Pro Tip: Speed is key when leads are received.
After two decades of perfecting all things lead distribution and lead management, PowerChord has embraced the need for speed by implementing multiple features within the PowerChord system that not only deliver leads to the appropriate salesperson within seconds of generation, but helps salespeople keep those leads moving toward conversion as quickly as possible.
So how do we help keep leads moving toward conversion?
That's where our One-click Action (OCA) funnel optimization feature comes into play. It's well known time is of the essence to salespeople. So we knew if we had any hope of getting salespeople to interact with our platform beyond lead allocation, we had to make it fast and simple. PowerChord's OCA funnel update feature eliminates the time and effort typically needed to make funnel updates within a CRM or extension like PowerChord.
The OCA feature kicks in right after a new lead is allocated. The PowerChord platform sends a lead-status update email a few minutes after a new lead is allocated so when the sales person or dealer has finished contacting the new lead, an email is waiting in their inbox with an instant update button embedded in the email. With one quick click of a button in an email and the funnel is updated without having to log into the system. Until the lead is converted or closed out, the platform will continue to send lead status and stale lead nudge update emails. This feature not only keeps each sales team or dealer's funnel organized and up-to-date, it allows Brands to enjoy funnel accuracy and transparency across their entire dealer network. The analytics attached to this feature we provide both Brands and dealers elevates their marketing and forecasting capabilities to new heights.
‍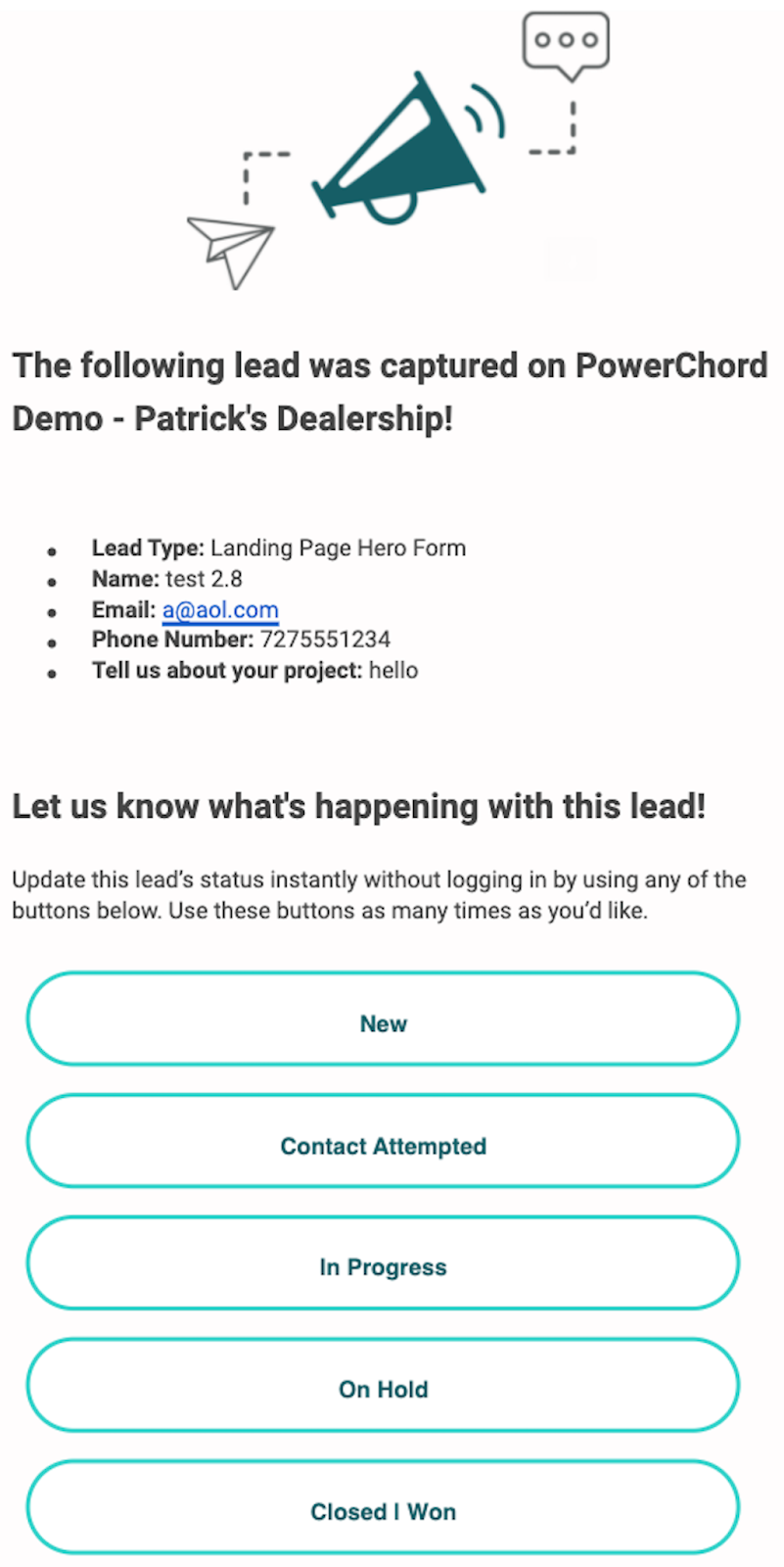 Our new One-click Action feature was an instant success. Prior to the launch of OCA, Brand A saw fewer than 2% of leads moved out of the default status of 'new.' Post OCA launch, 49% of leads moved out of the default status of 'new.'
Prior to the launch of OCA, Brand B saw 4.3% of leads moved out of the default status of 'new.' Post OCA launch, 49% of leads moved out of the default status of 'new.'
A few things to note:
PowerChord's One-Click Action feature can immediately lead to nearly a 50% increase in sales funnel accuracy.
PowerChord's SaaS platform can validate what happens to leads beyond distribution. Was a sale made? Did they buy your brand or competitors? Did they buy new or used inventory?
At PowerChord we take great pride in our ability to keep our Brands' sales funnels secure and transparent across the entire dealer network. Our platform captures newly generated leads and distributes those leads within seconds to a chosen independent dealer or salesperson according to predetermined parameters set by the Brand. Unlike most other lead distribution providers, PowerChord continues to work with dealers past the lead allocation stage and provides targeted analytics that help optimize multiple aspects of the sales process. We are proud to say, every day we support global Brands and thousands of dealers allocate leads and optimize conversions in over 40 countries.To learn how we can help your business too, request a free Demo today.
‍